Welcome to the second edition of the quarterly Bikita Minerals Newsletter!
The first edition laid the groundwork and was received with excitement by management, staff and the wider community.
I am therefore glad to present to you this edition which details some of the major highlights of our work in the fourth quarter of the year.
I am particularly glad that as we draw the curtain on year 2017, the company and the Bikita community can look back with pride and say,
"Yes, this indeed has been a productive year for us."
There is nothing mutually beneficial that any one party could have achieved without the complementary role of the other. Ours is a quest to build a thriving enterprise which takes care of all its stakeholders.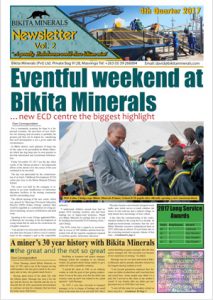 Download Newsletter